Since our last issue published in early December, the Gunnison/Crested Butte real estate market as continued its torrid pace. Below we consider the County-wide market and then we zoom in on the Crested Butte area. We close with a shout out to the brokers at LIV Crested Butte, leaders in this dynamic marketplace. Please note that unless otherwise noted, all data was sourced from the Colorado Real Estate Network multiple listing service.
County-Wide Market Grows 188%
For the five months ending May 31, 2021, property sales across all classes in Gunnison County increased from the prior year by 188% on the number of transactions and by 306% on the dollar volume of those transactions. On a twelve-month basis, this increase is modulated somewhat (107% on transactions and 144% on dollar volume), but still extraordinary. Annually, the overall market has leaped to $785 billion from approximately $350 billion in recent years. The two charts below put these amazing numbers in context.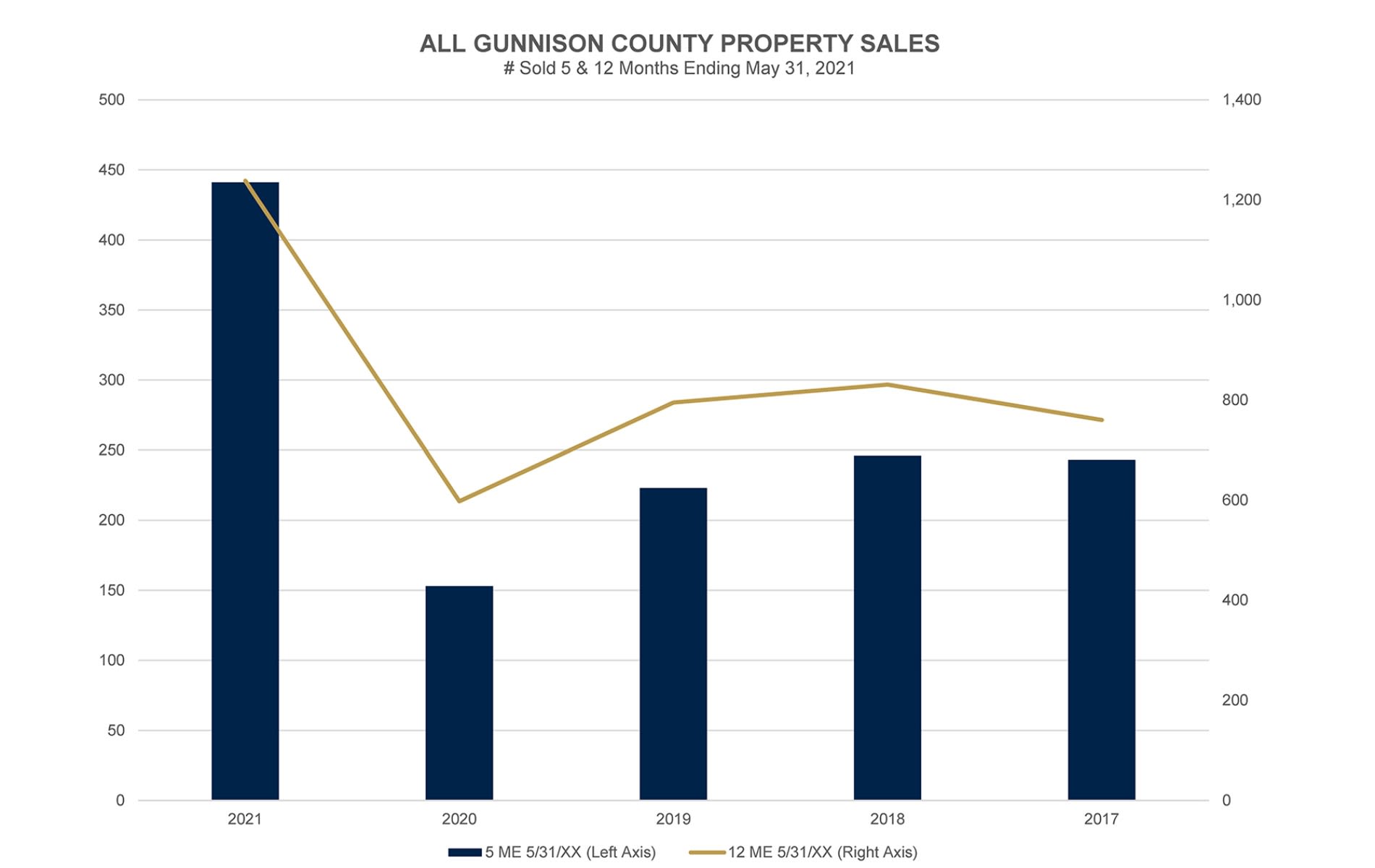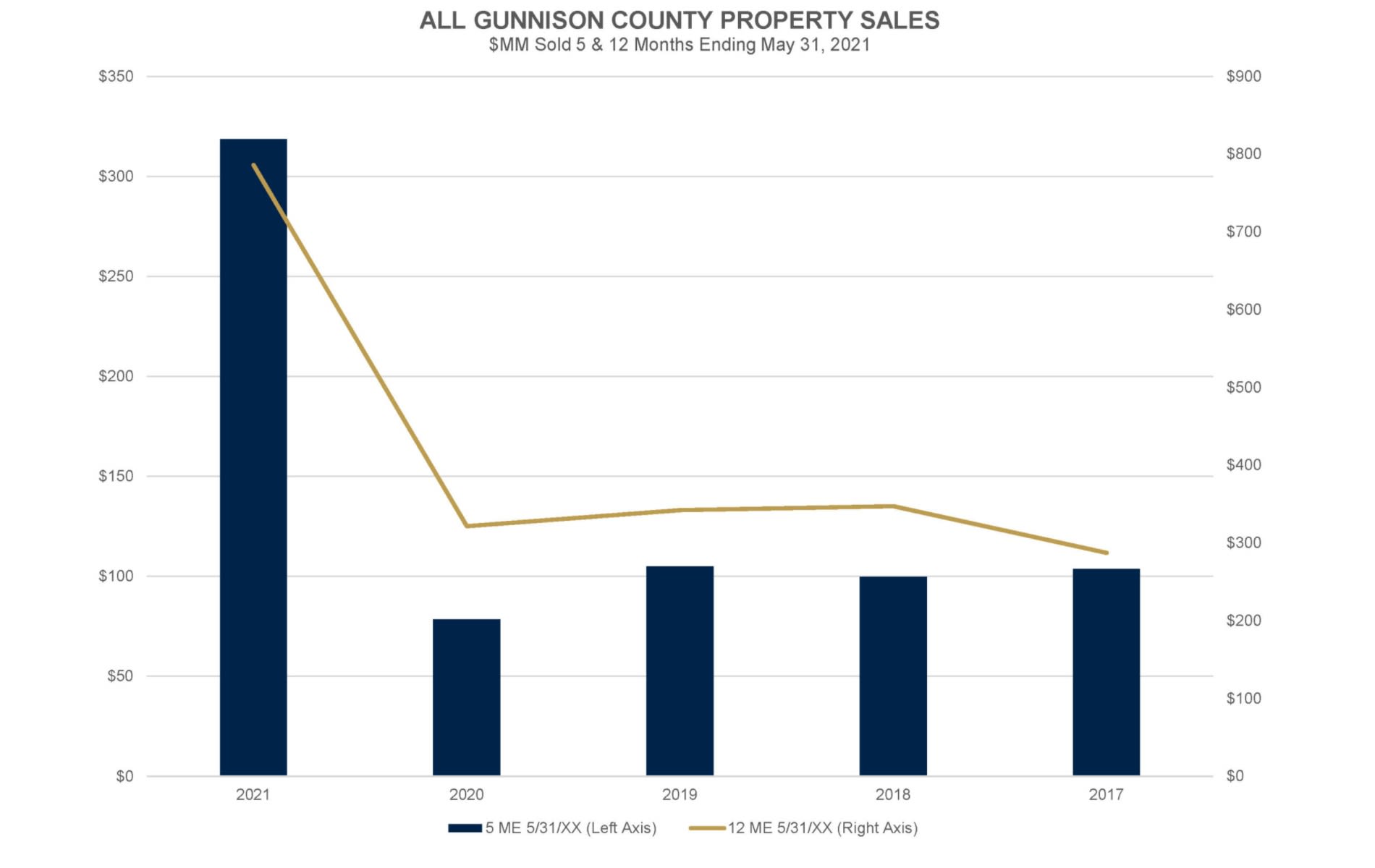 As with most markets around the country, particularly in ski towns, rising transaction volume has reduced the available residential and land inventory. Across Gunnison County, the supply of residential inventory has fallen 64% over the last twelve months to five months of supply while land inventory has fallen 73% to ten months supply (see chart below). Months of supply is the measure of how many months it would take for the current inventory of properties on the market to sell, given the current pace of sales.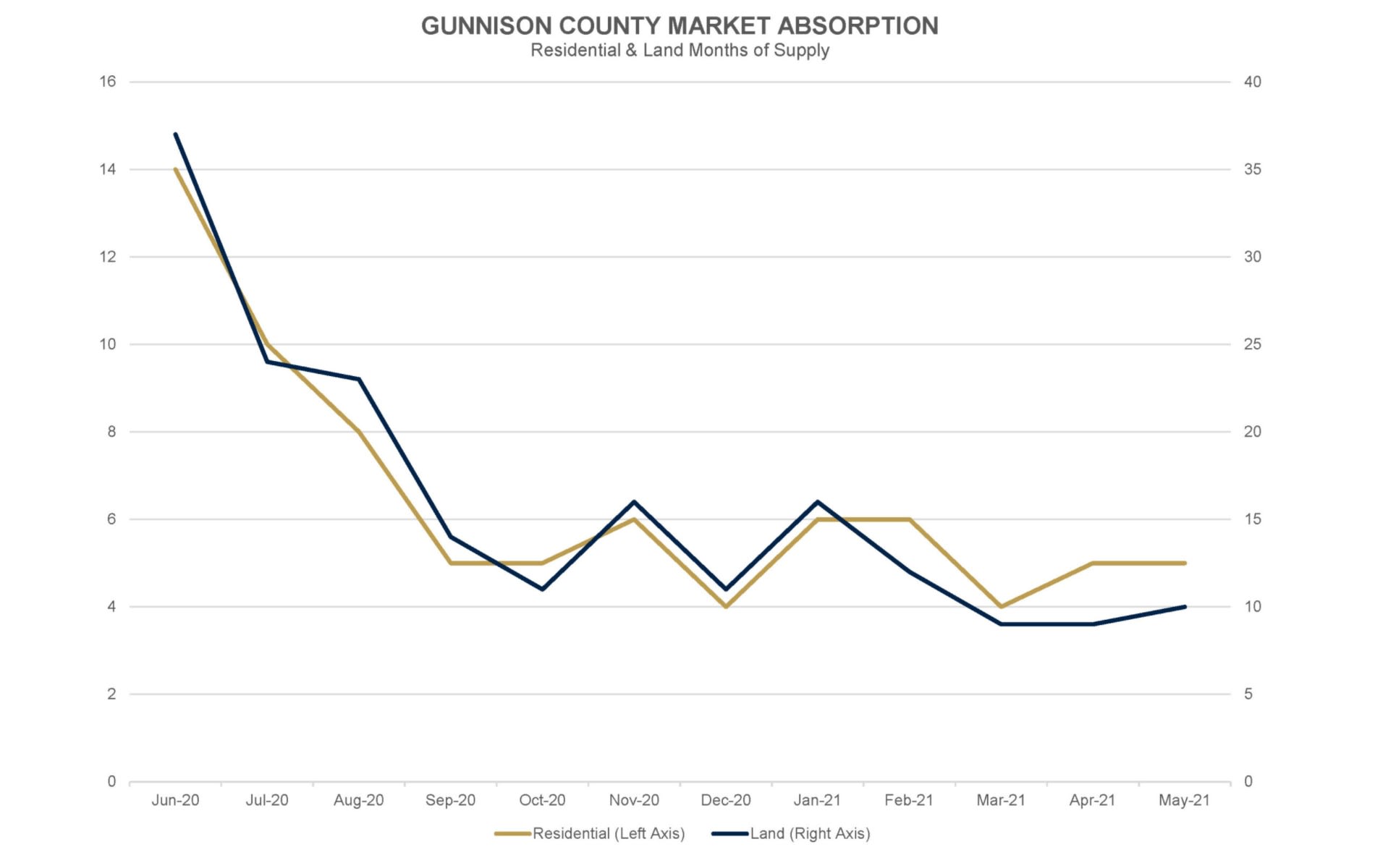 So, with rising demand represented by transaction volume increases and falling supply represented by months of supply, average and median prices are climbing. County-wide during the last twelve months, the average price for homes increased 21% (median: +17%) and land increased 6% (median: +9%). In the Crested Butte area, the price increases were more pronounced, especially with land: average home prices increased 19% (median: +32%) and average land prices increased 28% (median: +55%).
North Valley Market Grows 251%
The North Valley real estate market around Crested Butte accounts for approximately 60% of the transactions in the County. For the five months ending May 31, 2021, transaction volume across all classes in the North Valley increased from the prior year by 251% (138% over the last 12 months). The North Valley transaction volume is split 60-40 between residential and land sales. The North Valley residential transaction volume is split 60-40 between condo/townhome and single-family sales.


For the five months ending May 31, 2021, the number of North Valley condo/townhome sales grew 138% (90% over the last 12 months). Single family sales grew 181% (153% over the last 12 months) and land sales grew an astounding 571% (196% over the last 12 months). Please see the three charts below.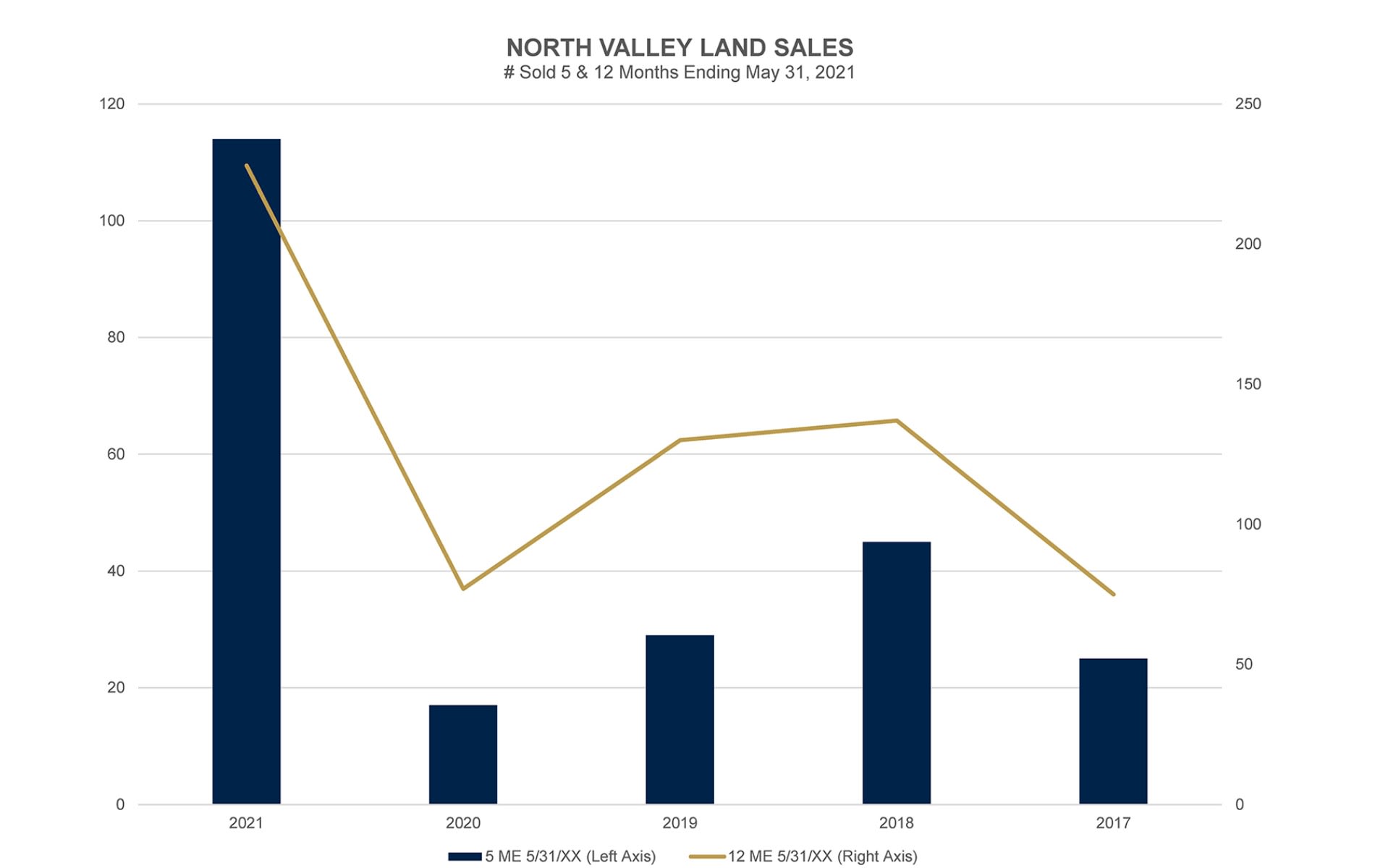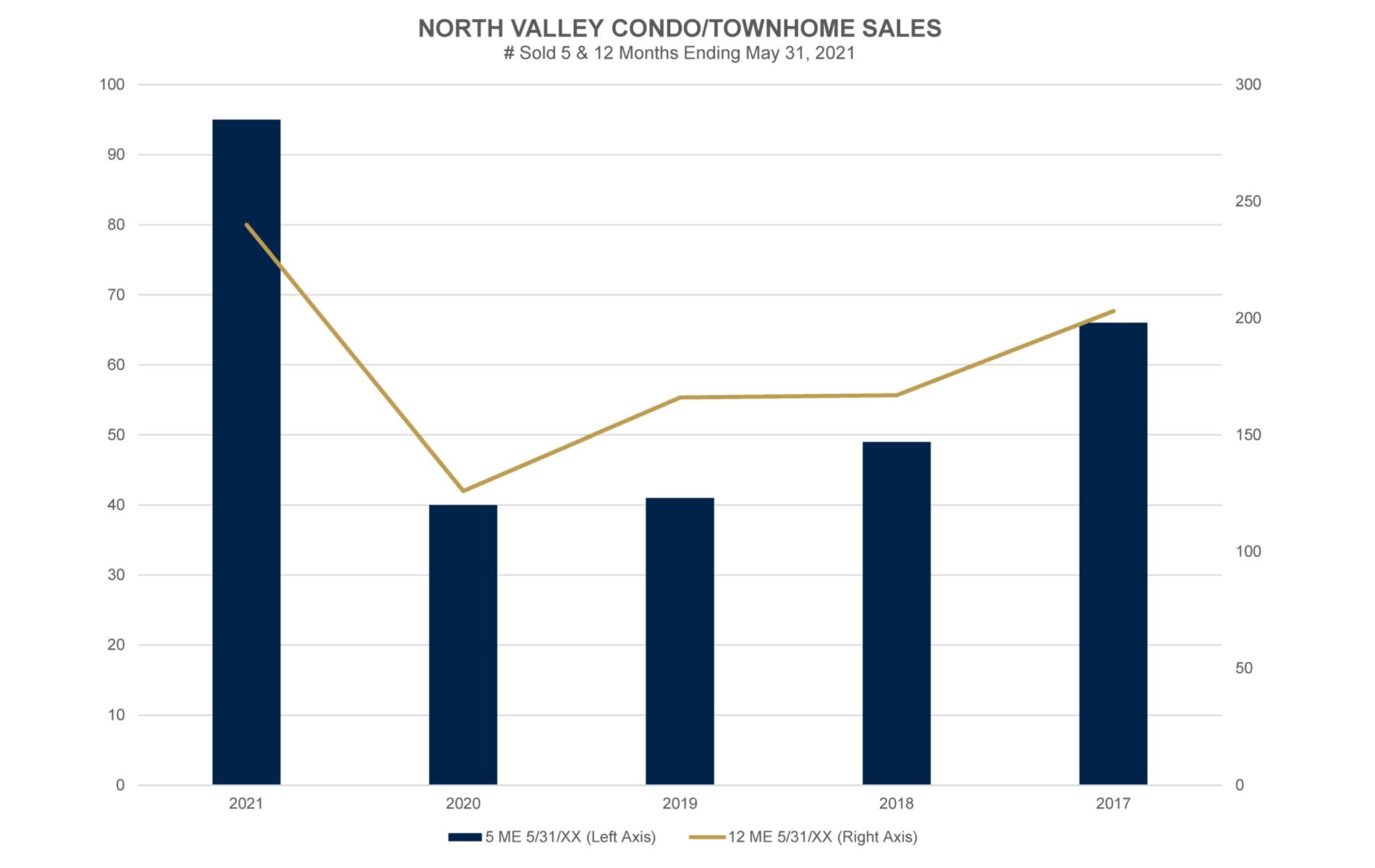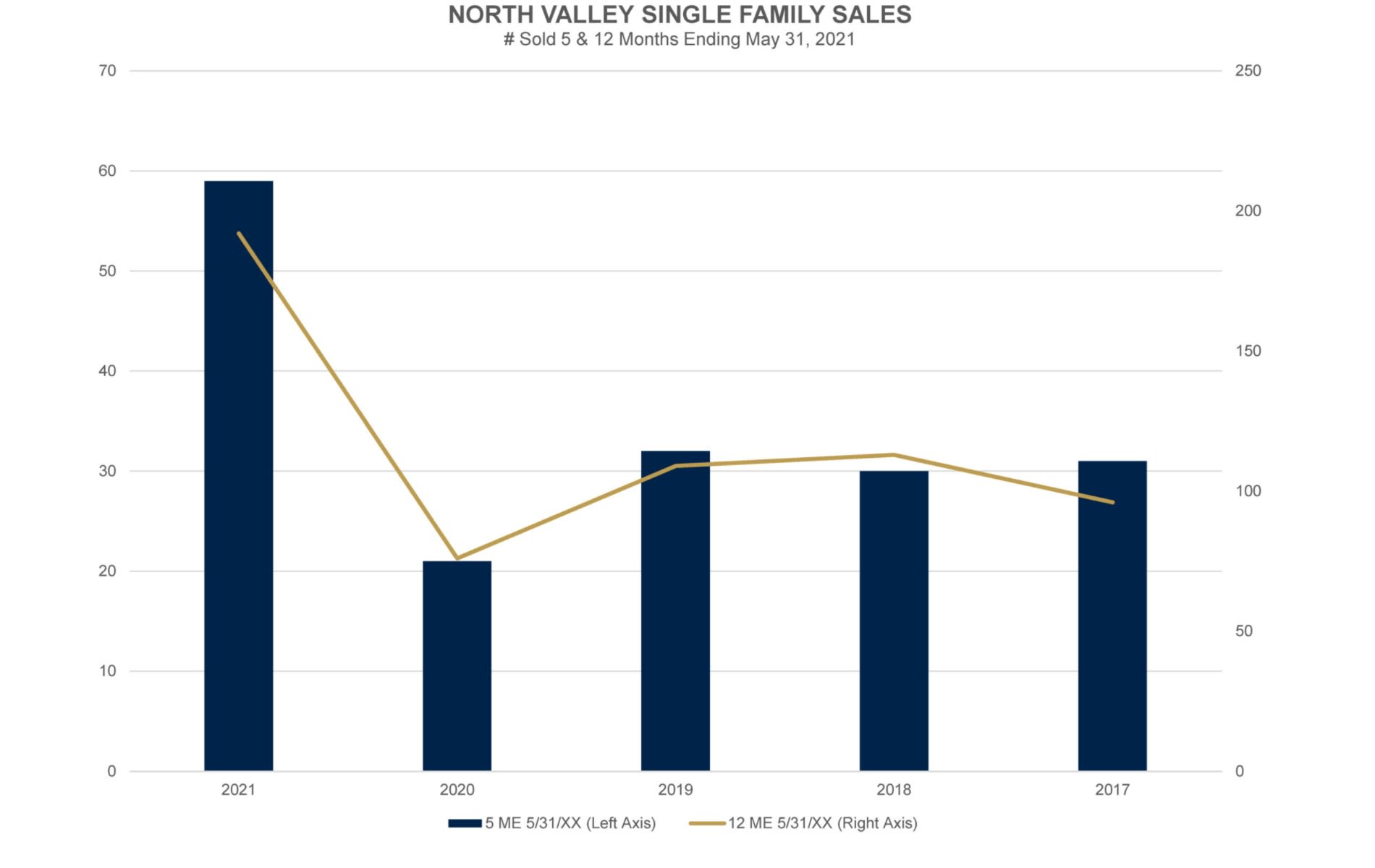 The rising prices and falling inventory of North Valley residential properties have impacted the land market. More folks today are considering land purchases for investment or to build. Projections for new home starts are off the charts and general contractors and their subs are maxed out pushing construction costs ever higher. Therefore, rising construction and land costs are likely to push residential prices higher into 2022. Even so, Gunnison/Crested Butte remains a value compared to other Colorado ski towns (see 2020 comparisons in the table below).

LIV Crested Butte Leads The Market
For the five months ending May 31, 2021, the brokers at LIV Crested Butte have combined to close 146 transaction sides representing $131 million (see the chart below). We are proud to be home to six of the top 30 brokers in our market as ranked by dollar volume, including the perennial number one agent. Our local team consists of 21 brokers and staff backed by marketing, operations, finance and legal pros located in our Colorado sister offices. We average 14 years in the brokerage industry and 24 years living in Crested Butte, 5 brokers with over 40 years of history here and 7 alumni of Western Colorado University. We draw upon a diverse mix of industry backgrounds, including restaurants, hospitality, software, financial services, ski industry, development, education and ranching. We tap into a global network of 23,000 Sotheby's International Realty brokers, including Colorado, Texas, California, Georgia and other key feeder mar­kets. Navigating this crazy market requires the local market knowledge and professional experience offered by LIV Crested Butte. Please reach out or stop by and we will help you LIV the life that you love!